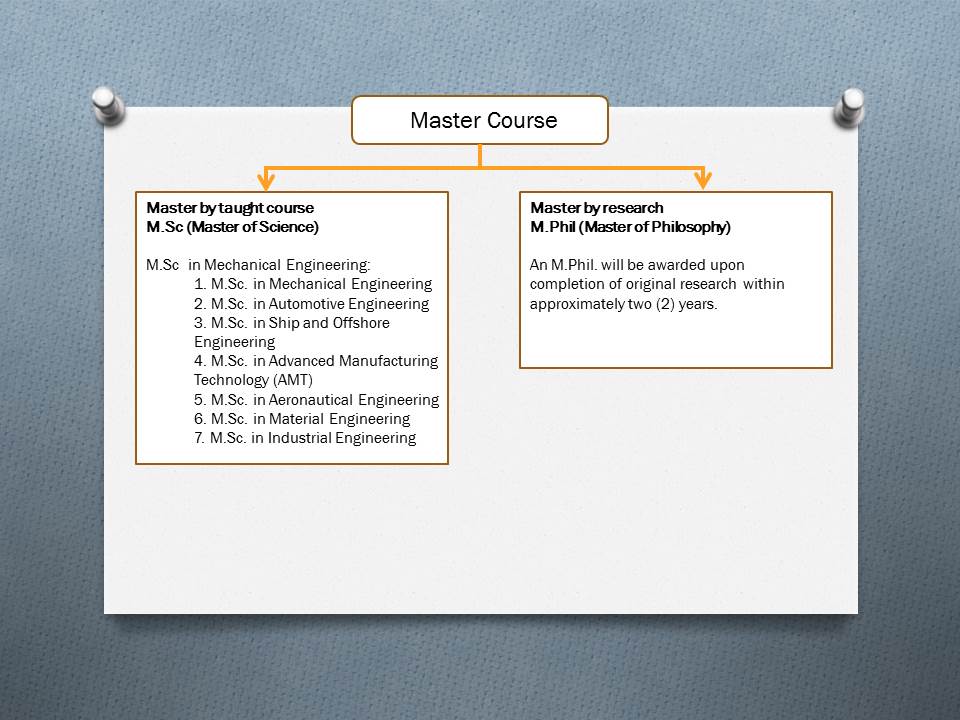 A Master degree in the Faculty of Mechanical Engineering at UTM can be taken by taught course or by research.
A Master of Science will be awarded after the students successfully attend the structured class modules (and pass the exam).
The available Master programmes are as follows:
M.Sc. in Mechanical Engineering
M.Sc. in Automotive Engineering
M.Sc. in Ship and Offshore Engineering
M.Sc. in Advanced Manufacturing Technology (AMT)
M.Sc. in Aeronautical Engineering
M.Sc. in Material Engineering
M.Sc. in Industrial Engineering
The normal requirement for admission to the programme is a four-year bachelor degree recognized by the university in either engineering or sciences with a minimum overall grade point average of 3.0 or equivalent. However, students applying for admission with a grade point average of less 3.0 but with relevant professional experience may be considered.
Students must obtain a minimum grade of B minus (60%) for each subject and an overall average of B (65%) to graduate. Students are required to complete a minimum of 40 credits consisting of 30 credits from specialized courses and 10 credits from the Master project (I and II).
( pdf brochure _ download)
An M.Phil. will be awarded upon completion of original research within approximately two (2) years.