Master of Science (Industrial Engineering)
  Master of Science (Industrial Engineering) program makes up the core of the Industrial Engineering studies at the School of Mechanical Engineering, Faculty of Engineering, UTM. It is designed to provide the students with the knowledge and capabilities to use appropriate techniques, skills, and tools to identify, formulate, analyze, and solve complex problems in both engineering and management. This master programme is by taught course comprises a combination of compulsory courses, electives, and a Master's Project. This program offers four (4) tracks which give more options to the students to choose the most suitable track. The four (4) tracks offered are Engineering Management, System Engineering, Manufacturing Engineering and Quality Engineering. A minimum of five (5) students is required to open any track or course. In addition, this requirement could also depend on the coordination between the program coordinator and students prior to the commencement of the semester. The aims of this program are to equip graduates with quantitative, analytical, and applications skills. This will prepare graduates as entrepreneurs, problem solvers, effective decision-makers, and change agents in a competitive business environment or as prospective scientists in academia.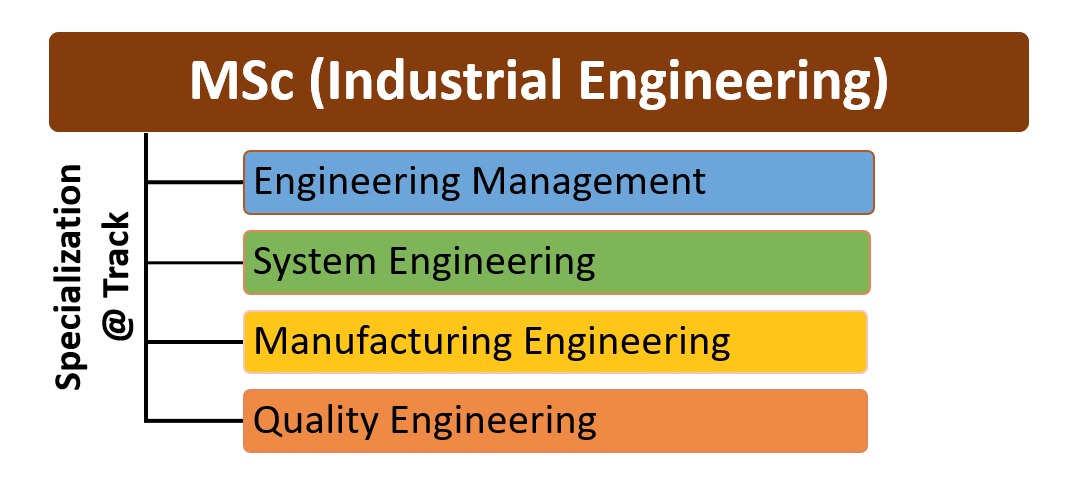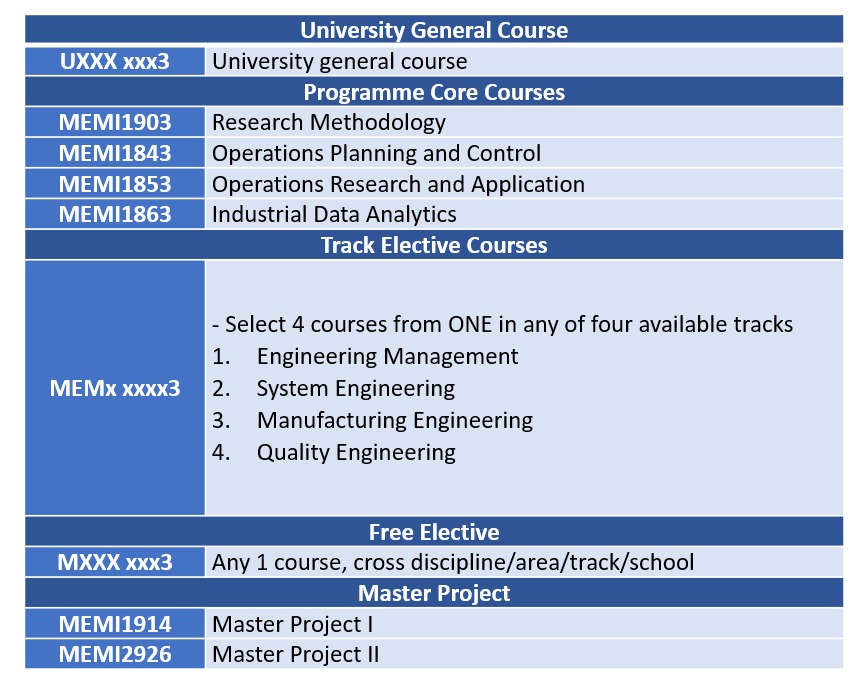 Tuition Fees
Assoc. Prof. Ts. Dr. Azanizawati Ma'aram
Director
(Materials, Manufacturing & Industrial Engineering)
Email: niza@utm.my
Synopsis
Engineering Management track offers a specific skills gap in the industry for engineers with project management competencies who can lead on engineering projects in any sector focusing on both technical excellence and management ability in equal measure. This track offers the insights and skills which needed to reach a managerial level within the engineering field and also how to successfully manage the day-to-day projects as well as long-term, complex initiatives such as ensuring quality management, sustainability, and supply chain and operations. From that student will develop industrial engineering skills, knowledge and expertise, alongside knowledge of business and management techniques, strategies and concerns. It is a dynamic and demanding programme, combining in-depth technical knowledge with a multitude of personal attributes and business expertise.
Synopsis
System Engineering track is a multidisciplinary track that includes a combination of engineering, systems thinking and management courses. Focused on the design, improvement, and installation of integrated systems of people, materials, information, equipment, and energy, this track provides variety of skills in the areas of contemporary manufacturing processes/systems, product development, ergonomic analysis, logistics and supply chain management, and sustainable design and development, systems engineering/product development, and systems simulation. The track is the right blend of engineering, technology, and management training which prepares graduates to become technical leaders who apply a systems approach to successfully navigate and manage complex systems. Graduates from this track will be able to address systems integration, life cycle issues and systems thinking at the system and enterprise levels, in a market where globalization, quality, complexity, and productivity are the business drivers.
Synopsis
Manufacturing Engineering track deals with integrated science and technologies to develop and improve innovative products and manufacturing processes. This interdisciplinary program integrates fundamental science and knowledge from mechanical, industrial, production, and materials engineering to research, design, and develop manufacturing systems, processes, machines, tools, and equipment. This track offers a deep knowledge in current and new manufacturing technologies, such as continuous manufacturing processes, regulatory issues affecting manufacturing, quality risk management, Lean Six Sigma, decision making tools, as well as a thorough knowledge in key aspects regarding the operation and management of a high-tech industry. This track aims to embrace the requirement of manufacturing industry areas such as production planning, design, materials handling, processes and quality control.
Synopsis
Quality Engineering track offer concepts and tools in quality improvement. It encloses all tasks from ideation to execution. These would include the analysis of a product's design, its development, and finally the manufacturing processes. The focus is on improving the quality of the final product and an efficient production process. Quality Engineering has a broad range of tools and methodologies. It encompasses various statistical process control problem-solving tools such as quality systems, product and process control and design, quality methods and tools, applied statistics, statistical process control (SPC), and design of experiments (DOE).  This track aims to produce graduates which are able to ensure services or products are designed, developed, and manufactured to meet customer's expectations and also produces professionals with leadership skills.
1. Awarding Institution
Universiti Teknologi Malaysia
2. Teaching Institution
Universiti Teknologi Malaysia
3. Programme Name

Master of Science (Industrial

Engineering)

4. Final Award

Master of Science (Industrial

Engineering)

5. Programme Code
MEMI
6. Professional or Statutory Body of Accreditation
Kementerian Pendidikan Malaysia
7. Language(s) of Instruction
English
8. Mode of Study
Conventional
9. Mode of operation
Self-governing
10. Study Scheme (Full Time/Part
Full Time / Part Time
11. Study Duration
Minimum : 1 year Maximum : 4 years

 

Type of Semester

No. of Semesters
No of Weeks/Semester
Full Time

Part

 

Time

Full Time
Part Time
Normal
8
8
14
14
Short
4
4
8
8
| | |
| --- | --- |
| PEO1 | Mastery of knowledge and competency in advanced areas of Industrial Engineering field |
| PEO2 | Practice professionalism and high standards of ethical conducts within organization and society |
| PEO3 | Responsive to changing situations by continuously acquiring new knowledge and skills |
| | |
| --- | --- |
| PLO1 | Attain new frontiers of knowledge in the field of Industrial Engineering (Knowledge and understanding). |
| PLO2 | Solve complex problems critically and integratively using systematic approaches (Cognitive skills). |
| PLO3 | Apply practical skills to solve problems in the field of Industrial Engineering (Practical skills). |
| PLO4 | Demonstrate effective collaboration with stakeholders professionally (Interpersonal skills). |
| PLO5 | Communicate effectively the knowledge, skills and ideas using appropriate method to peers, experts and communities (Communication skills). |
| PLO6 | Use digital technologies and appropriate software competently to enhance study and practice (Digital skills). |
| PLO7 | Evaluate numerical and graphical data critically using quantitative or qualitative tools in solving problems (Numeracy skills). |
| PLO8 | Demonstrate leadership, autonomy and responsibility in managing resources (Leadership, autonomy and responsibility). |
| PLO9 | Engage self-advancement through continuous learning or professional development (Personal skills). |
| PLO10 | Demonstrate entrepreneurial skills with relevant knowledge and expertise (Entrepreneurial skills). |
| PLO11 | Demonstrate respectable ethical conducts and professionalism skills in an organization and society (Ethics and professionalism skills). |
The normal requirement for admission to the programme is a four-year bachelor degree recognized by the university in either engineering or sciences.  The minimum overall grade point average for the admission can be access:-
 Malaysia student (

https://admission.utm.my/malaysian-postgraduate-study/

)

International student (

https://admission.utm.my/international-postgraduate-study/

)
A) For candidates who have a Bachelor's Degree
i) Candidates have a four-year Bachelor's Degree or equivalent from MQA-recognized university in engineering or science with an overall grade point average,CGPA minimum of 2.50.
ii) Candidates who have a CGPA between 2.50 to 2.75 are subject to rigorous evaluation at the Faculty level.
iii) If the CGPA of the candidate applying for admission is less than 2.50, but has relevant professional experience in the field of engineering of at least five (5) years may be considered.
iv) Candidates with a degree other than engineering or science must register for 3 Pre-Master modules that have been prescribed by the school/faculty at the undergraduate level and pass with a minimum grade of B- and a minimum CGPA of 3.0. The same method applies if the candidate holds a Higher Diploma or Advanced Technical Diploma or equivalent with a bachelor's degree from a particular country including Libya and the Middle East.
B) For Malaysian candidates who do NOT have a Bachelor's Degree
Candidates have at least a STPM or Diploma in Science, Technology, Engineering or Mathematics from a university recognized by MQA AND have working experience in a field related to mechanical engineering AND passed the APEL T-7 assessment.