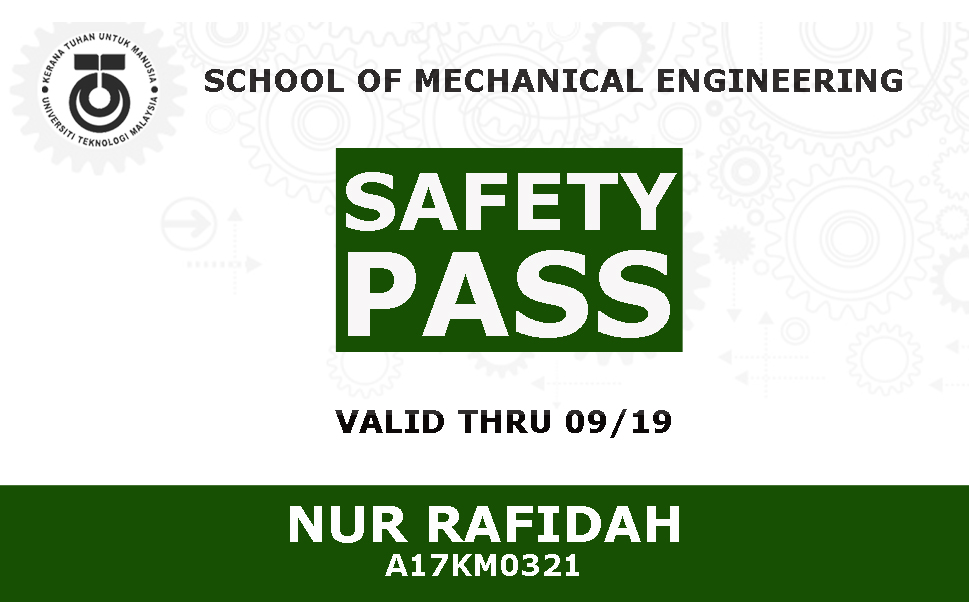 SKM SAFETY PASS
All users are required to show your SKM Safety Pass before you are allowed to use the laboratory/workshop
All users are required to wear personal protective equipment as specified by the respective laboratory/workshop
Efective 11th february 2018
Note **
1. Fees for "FULL DAY COURSE AND TEST" is RM 50.00
2. Fees for "TEST ONLY" is RM 5.00
3. The full fee will be charged to those who registered but did not attend the course.
4. Those who have not taken GLL1040 do not have to pay the course fee. The course is equivalent (and an option) to GLL 1040.
5. Those who have taken GLL1040 OSHE option or CIDB Green Card are required to take this course and pass the test.
6. Those who have a valid Tenaga Safety Pass can apply for exemption from this course and test.
7. The Safety pass is valid for 2 (two) years only and the pass holder will be required to pass the test again before a replacement pass is issued.
Registration Form: